Bed & Breakfast De Benci b&b Florence
Vous êtes ici: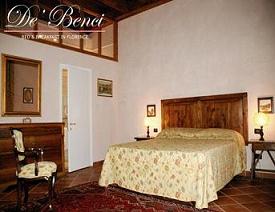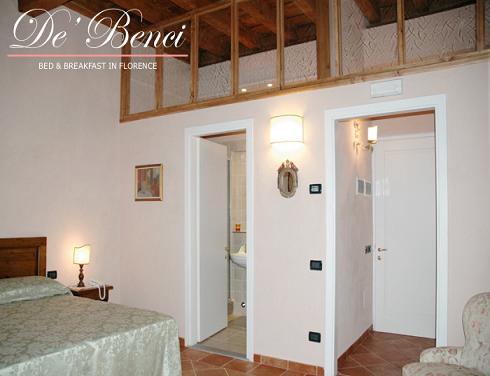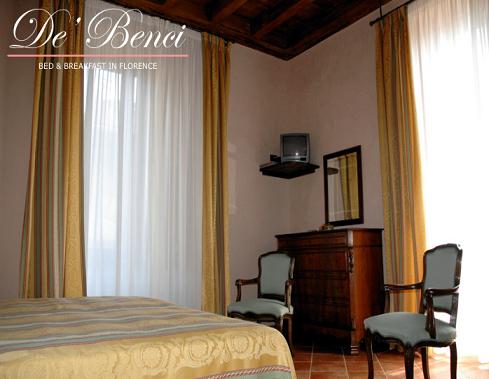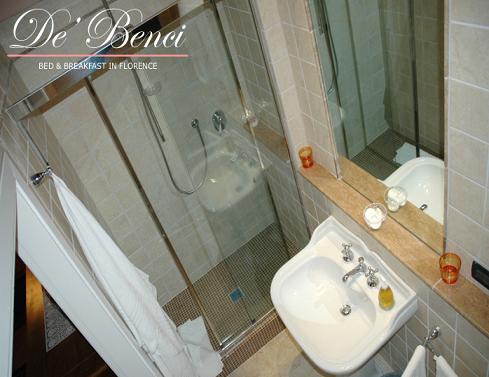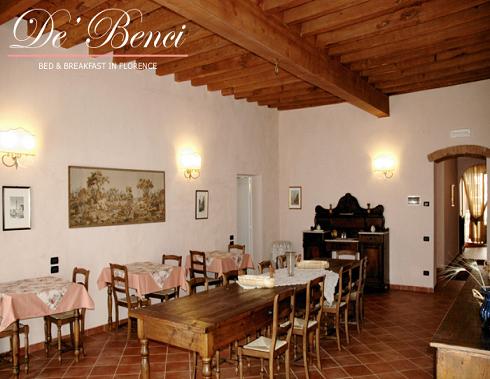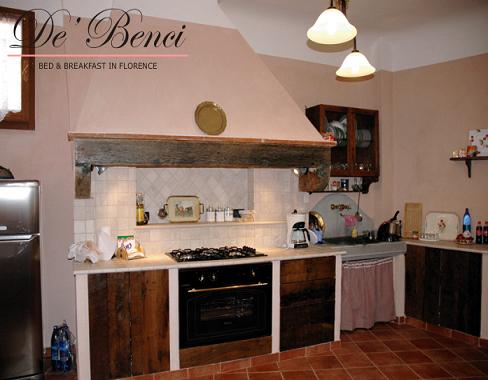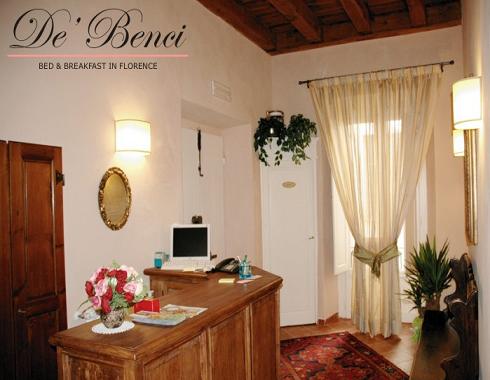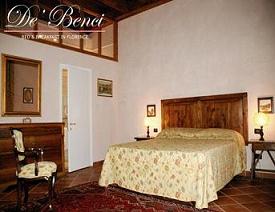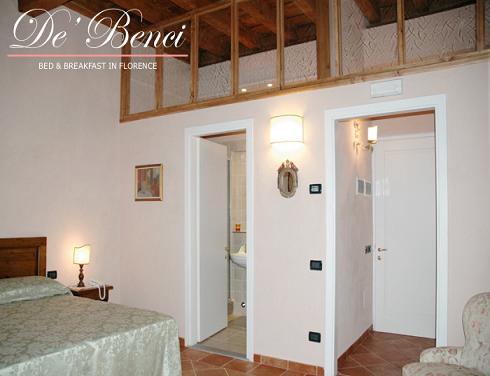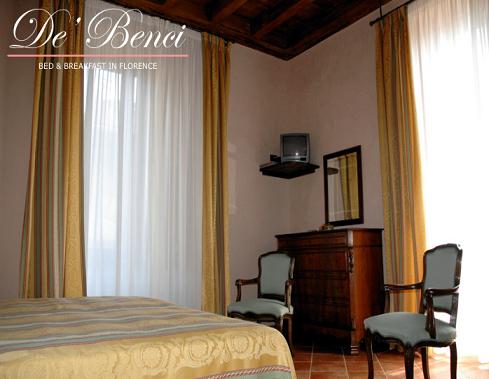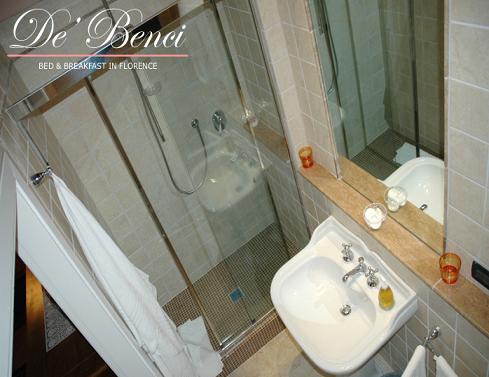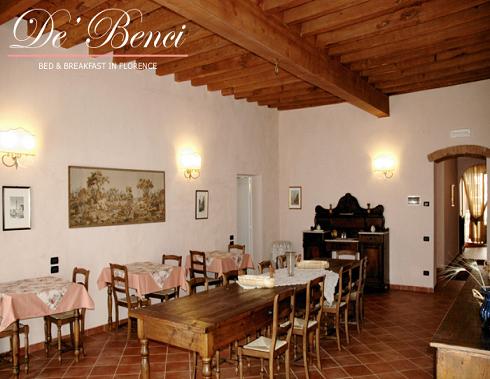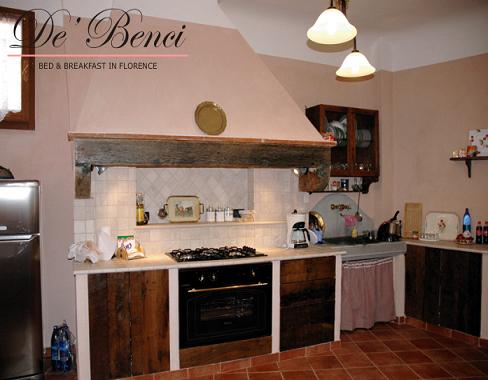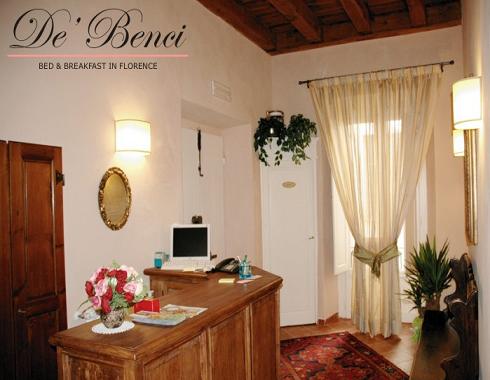 Santa Croce
Centro Storico
Via De' Benci 19
In the heart of the old city of Florence, just between
Piazza Santa Croce
and
Piazza della Signoria
, there is De Benci
b&b
,
bed and breakfast
in Florence, ideal base for visiting one of the most beautiful cities on earth and its art.
The visit, the discovery of the capital of the
Renaissance
already begins within the walls of De Benci b&b.
The atmosphere is very charming, stylish and romantic: you will be welcomed into elegantly furnished suites with every modern comfort (air conditioning/heating, private bathroom in room, digital lcd tv - DTV, internet connection, Etc.).
The bed and breakfast is on the fourth floor of an ancient building (dating back to 1300) with the recent installation of modern lift.
The thick and textured interior walls are painted rose. The doors are as light as ivory. Very wide windows let the light go in. The typical Tuscan floor and the ancient wooden-beam ceiling enrich the entire structure. In all over the place you can find small details in characteristic stone (i.e. pietra serena), in ancient brick or in dark wrought iron and brass that decorate the environment, but soft colour and scent of wood reign over all. Every detail has been chosen with great care, taste and passion.
Reception:
Monday to Saturday 8:00 am - 6:00 pm
Sunday and Holidays 8:00 am - 11:00 am
Facilities
Conditioned air
Adjustable air conditioned
Phon available
American Express accepted
Bancomat accepted
Sì Card accepted
Diners Card accepted
Visa Card accepted
Rooms cleaning
Rooms with TV
Rooms with color TV
TV Sat
Little pets accepted
Lift
Booking museum service
Rooms with Safe Box
Very central
Breakfast in room service
We speak English
We speak Detush
We spaek Spanish
Fax service
Paiment parking
Park close from Hotel
Rooms with radio
Heating
Restructured from little
Romantic atmosfere
Historical building
Room with phone
Romms with phone with direct line
Calm atmosphere
Added bed available
Turistic information
No smoking rooms
Newspaper available
City Map available
City information
Internet service
PC available
Guided visits
Où sommes-nous
Si vous souhaitez nous contacter, vous pouvez utiliser le formulaire que vous voyez ci-dessous
Commentaires
Pas de commentaires insérés